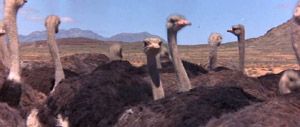 If you've never seen
The Gods Must Be Crazy
, this movie will probably be pretty surprising. If you have seen it, this should still be awfully entertaining.
Animals Are Beautiful People
is offered more as a straightforward documentary than is its obviously-fictional descendant, and that pretense makes a beautiful stage on which to present this parody. Filmmaker Jamie Uyr treads the line carefully, and manages a nearly pitch-perfect comedic documentary (a rare genre indeed, and certainly
not
to be confused with the more familiar mockumentary).
Actors, directors, and writers have long argued that comedy is much harder than it looks, and specifically that it requires real commitment if you're going to pull it off. This is Uyr's strongest asset. He does have some great footage of the animals & plants which populate the deserts of southern Africa. The film is rife with can-you-believe-it facts, just as any nature documentary would be, and most of them seem to be true. This is, at its core, a nature documentary. A careful observer may notice some liberties in the editing, and elsewhere, but they are infrequent and subtle enough to be harmless. And they do serve the tone of the film well.
It's that tone that sets the film apart. Certainly no straightforward documentary would describe its subjects with the casual, judgmental, and even mocking lines that fill out most of the narration here. It comes on gradually, though, and Paddy O'Byrne speaks with just the right amount of irony to sell it but not oversell it.
It's a well balanced film, with plenty of levity punctuated by serious—even grave—moments, and humor laid casually over a documentary's worth of interesting factual information. Mostly, it's just surprisingly fun to watch. I'm sure I'll be watching it again soon (with the kids), and I'm hopeful it will hold up well.